So you've decided that this is the year you're going to travel, even though your friends are busy, your family members can't join you, and it means you'll be going it alone. Girl, you're about to have an awesome solo adventure! What better way to spend a vacay than sipping espresso in Italy, eating fish and chips in England, diving into the gorgeous beaches of Portugal, and chasing the northern lights in Iceland?
Europe is a great destination for solo female travelers! It's pretty safe, small and easy to travel around, and it's absolutely full of gorgeous spots to see. That said, there are a few things to be aware of that will make your time there easier, such as what to bring, how to stay safe, how to keep your belongings from getting stolen, and which spots are the best even if, and especially if, you're traveling alone.
I've lived in Berlin, Germany, on and off for the better part of five years, and for this post I've also invited Ashley from Ashley Abroad to share some of her best insights from several years living in Paris and traveling around Europe, mostly solo.
Here's everything you need to know about planning an awesome solo trip to Europe:
Jump to:
The best destinations for solo female travelers
Transportation tips
How to meet others
On staying safe as a solo female traveler
Packing tips
Food guide
Long term living and working abroad in Europe
The Best Destinations in Europe for Solo Female Travelers:
1. Ireland
Ashley's pick: Ireland is the perfect destination for first-time solo female travelers. It's small, safe, English-speaking, and inexpensive compared to other European countries (except for Dublin, which can be a bit more expensive).
Irish people are kind and welcoming, and is there anything better than a cute guy with an Irish accent?
There's also so much to do in Ireland. While in Ireland, visit cosmopolitan cities like Dublin and Cork, explore craggy, green Western Ireland, and drink as much Guinness as humanly possible.
Recommended destinations: Dublin, Cork, Dingle, Galway, Aran Islands
➳ Click here for an Ireland guide!
2. Iceland
Kristin's pick: Iceland will absolutely blow your mind with its natural beauty. Seriously, I saw so many waterfalls on my road trip along the Ring Road that I just stopped pointing them out.
It's a great place for solo female travelers because it's the safest country in the world, and it's so popular with other travelers thanks to cheap flights and the way that images of it have exploded on Instagram, you can easily meet others in hostels in Reykjavik to have an adventure with around the island, or along the Golden Circle if you're shorter on time.
Recommended destinations: Reykjavik, Vik, Blue Lagoon
➳ Click here for an Iceland guide.
Want to join a life-changing hiking trip this summer in Iceland? Click here to learn more!
3. Scotland
Ashley's pick: Scotland is an easy country to love. It has Edinburgh, one of Europe's most beautiful cities, and the Highlands, some of Europe's most stunning nature.
If you're a nature lover, climb Arthur's Seat in Edinburgh or hike to the Fairy Pools on the Isle of Skye. If you love history, take a City of the Dead Tour in Edinburgh or walk around age-old St. Andrews. If you're a foodie, try Scottish smoked salmon, a full Scottish breakfast, and haggis, which is surprisingly delicious.
Recommended destinations: Edinburgh, St. Andrews, Isle of Skye, The Highlands
4. Germany
Kristin's pick: I love Germany for a lot of awesome reasons: It's full of fairytale-like castles, I feel safe there (violent crime is rare though petty theft in big cities like Berlin is common – unfortunately I know from experience. More on how to avoid that later in the post), and it tends to draw a lot of other solo travelers who have heard about how hip Berlin is and how beautiful the countryside can be.
Whether you're road-tripping around Stuttgart, adventuring through the Black Forest or exploring alternative things to do in hipster Berlin, you can do so easily using the awesome public transport. Plus, English is widely spoken there so getting around is easy.
Recommended destinations: Berlin, Hamburg, Stuttgart
➳ Click here for a Germany guide! 
5. England
Ashley's pick: As Bill Bryson wrote, England is "the world's largest park, its most perfect accidental garden."
Although England's small, it packs a punch. From the winding medieval alleyways of York, to the diverse and delicious food markets of London, England has something for everyone and it tends to draw a lot of solo travelers, particularly those from English-speaking countries. Stay in any hostel and you'll meet others easily. Plus, it's got great public transport!
While in England, visit bustling cities like London, Manchester, and Brighton. If you're in need of nature, rent a car and explore the Lake District or the Peak District.
Recommended destinations: London, Brighton, Manchester, York, The Lake District, The Peak District
6. Belgium
Ashley's pick: Belgium is a country full of different languages, cultures, and of course, delicious chocolate. In particular, Brussels is great for solo travel because it's centrally located, and has lots of things to do. And like most major European cities, Brussels has lots of youth hostels, making it easy to meet people.
While in Brussels, don't miss out on the food – be sure to sample the fries, waffles, mussels, and world-famous Belgian beer.
Check out the striking Grand-Palace, a UNESCO World Heritage Site that was once the meeting place of Flemish guilds.
Brussels also has incredible street art, with gigantic and colorful street art murals around every corner.
7. Switzerland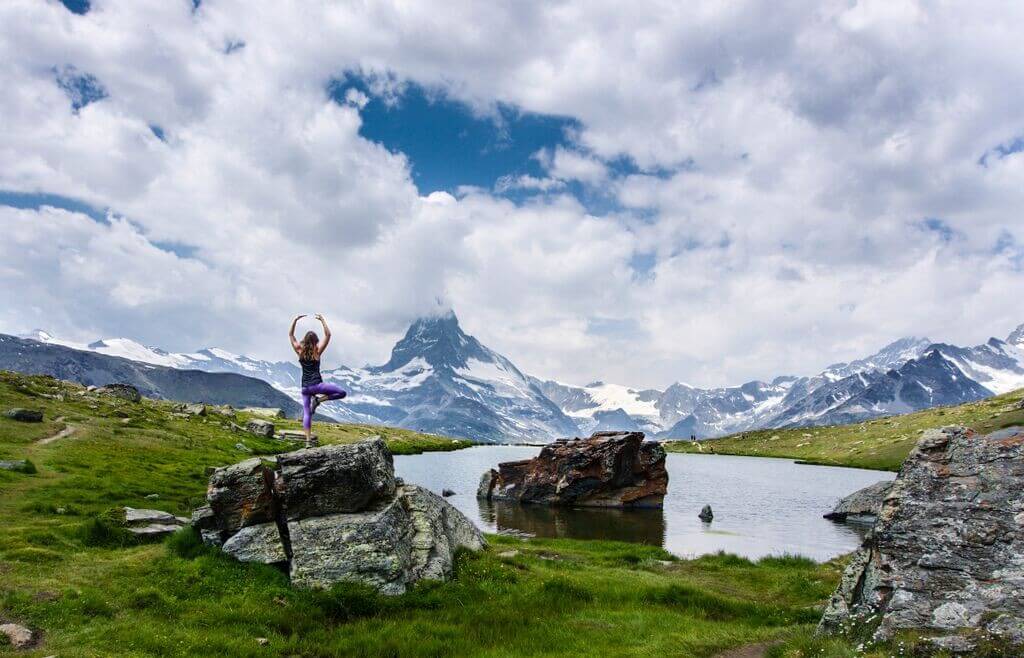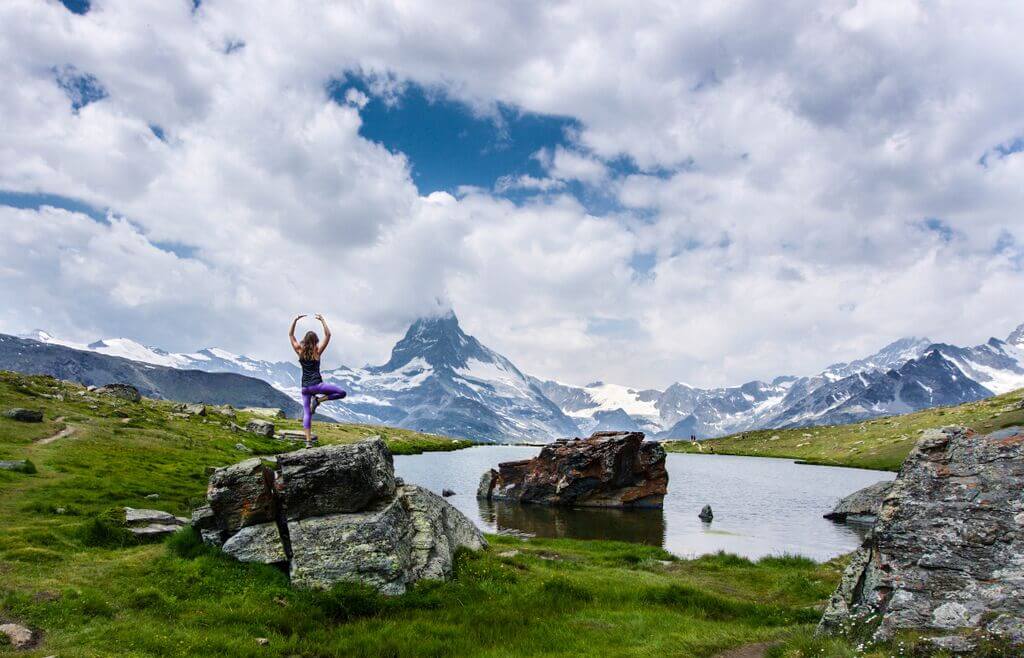 We both pick: Switzerland is a great destination for solo female travelers in summer or winter. In summer, go hiking, paragliding, or mountain-climbing in adrenaline-obsessed Interlaken or hike around the Matterhorn in Zermatt.
In winter, enjoy winter sports in ski towns like Davos Klosters, Grindelwald, or Gstaad. Lift tickets are cheap compared to North American prices, and the Alpine ambiance is lovely. (Fondue, anyone?)
Snowshoeing and tobogganing on an old-fashioned sled are also great winter activities in Switzerland.
Recommended destinations: Gimmelwald, Interlaken, Grindelwald, Zermatt, Davos Klosters
While this is by no means an exhaustive list, these are a few of our favorite places in Europe for when we're solo. However there are tons of places worth checking out all over Western and Eastern Europe which can be safe, fun, and great places to meet others. Get out there and explore (then comment and tell us your favorites!).
➳ Click here for a Switzerland guide!
Want even more? Here's a list from a bunch of solo female travel experts on their favorite places in Europe.
How to Get Around:
Budget airlines: Flights in and out of Europe can be pretty pricey in the summer, but flying within Europe itself can be ridiculously cheap! Check comparison sites like Skyscanner or Google Flights to see the deals. If you are flexible with your travel schedule, you can grab last minute deals to fly around Europe for cheap. Norwegian Airlines and WOW are also cheap options for getting to and from the continent.
Trains: Europe has one of the world's most extensive train systems. They are more eco-friendly than budget airlines, and more comfortable than buses. There are all kinds of passes so be sure to check online and plan your route beforehand. If you are traveling to multiple countries in Europe for an extensive period of time, consider getting the Eurail pass, which, if planned properly, can save you hundreds of dollars. Most international airports have trains that will get you to the city center in no time.
Buses: Companies like Flixbus and Megabus are cheap and reliable.
Taxis: They tend to be very expensive in Europe so I'd only take it when I have a lot of luggage with me, or when public transportation is not an option. Uber is a slightly cheaper alternative. You can also look into BlaBlaCar, which is a car-sharing system that's popular in Europe.
Walk: Be prepared to walk on cobblestones a lot! Bring a pair of good walking shoes with you. I love walking in Europe, it's often how I stumble upon the cutest neighborhoods or authentic local restaurants.
How to Meet Others While Traveling Solo in Europe:
Europe draws a lot of solo travelers because of the reasons we've pointed out before: It's compact, easy to get around, and famous all over the world for its amazing art, cathedrals, food, and mix of cultures. It's also generally an easy place to travel through and has a great hostel culture.
If you are traveling by yourself, strangers will ask, "Are you traveling alone?", followed by an invitation to the pub/cafe/party. Because you're alone, locals will be more likely to take you under their wing and offer to show you around. Plus, it's much easier to accommodate one guest than it is two or three.
Stay in hostels or couch surf. You will save money And meet people. Before staying in a hostel, I check on sites like hostelworld.com to see if it has a common area or throws parties, both of which bode well for meeting others. As for couch surfing, pick people with lots of reviews, or attend the meetings without actually staying with anyone first. Keep in mind that the European backpacking crowd tends to skew younger. If you're staying in hostels, prepare to meet a lot of study abroad students.
Some solo female travelers I know used Tinder to meet up with others, even platonically. Just be upfront about exactly what you're looking for before meeting up.
How to Stay Safe While Traveling Solo in Europe:
Overall, Europe is very safe but it's important to take some safety precautions. In general, places in Europe can even be safer than big cities in the US since most countries have outlawed guns and generally, assaults are few and far between, especially as they pertain to tourists (you can find stats by country here).
While traveling alone in Europe, take the same safety precautions you would anywhere else:
Don't walk home alone at night (especially not with headphones!),
Don't drink too much alcohol, especially alone
Carry a photocopy of your passport (or have a digital copy).
Carry photocopies of your credit cards (or have a digital copy).
Travel with at least two credit or debit cards (and at least one of each), and also keep an emergency stash of money in your backpack (no more than $100-200).
Leave your passport at the front desk of the hostel or lock it up in their security deposit boxes.
Don't be too trusting of fellow travelers at a hostel. If there is a locker available, pay to lock your valuables.
Make sure the taxi driver has the meter on and is a marked, legal taxi. He or she can't legally charge you if the meter has not been turned on, but it's better to request it up front than risk a confrontation.
Use a theft proof bag and purse. A cross-body purse is not only harder for thieves to pull off of your body but is also great when you're carrying a backpack, and locking zippers are a wallet-saver as well. Thieves in Europe are super quick and tend to be able to do their worst before you even notice, so beat them to it by bringing bags that they can't infiltrate.
Don't give to beggars even though it's tempting. In doing so you reveal the location of your wallet, which can lead to trouble.
What to Pack:
Generally, what you wear and love at home will also work for you in Europe, as long as you consider the time of year. Also, unless you're at a beach, flip-flops are generally not a good choice on those cobblestone streets. Closed-toed, comfortable shoes are your friend in Europe! Many larger hostels have coin laundry service, but even if they don't, it's easy to track one down in the city, so I wouldn't worry about not packing enough clothes.
Here are a few of my packing lists to help you prepare for some of the types of weather you might encounter:
Where to Find the Best Food:
A general rule: Find restaurants that do not have an English menu, and chances are good that you will end up with some of the best local food on your plate. I know that can be scary if you don't know what you're ordering, but I like to look at the plates of those next to me to make my ordering decisions.
Forget about calories for a minute – enjoy that pasta in Italy, try all the food in Greece, eat chocolate in Switzerland. Europeans take their food seriously and you ought to embrace that!
Ask your hostels or hotels where the nearest food market is. I love exploring street food in all of Europe (here's a Berlin guide for example). It can be interesting, delicious and way cheaper than restaurants.
If your accommodation has a kitchen, I highly recommend exploring the local morning markets and cooking your own meals. Not only are they cheaper than eating out, but you will also get to try out local fresh produce and have fun experimenting.
Make sure you know the hours of operation for the country. For instance, Spaniards tend to eat late – think dinners at 8:30pm; in Italy, many restaurants are closed between lunch and dinner.
Tipping is always appreciated but not necessary. This site has pretty comprehensive information on tipping in Europe, which varies from country to country.
Long-term Living and Working Abroad in Europe:
Americans, Canadians, Australians, Kiwis, and many others get a 90-day Schengen visa upon arrival in Europe. Some nationalities are also able to get working holiday visas and even longer term visas in Europe (like my German freelancer visa).
Au pairing is an excellent way to explore Europe. For reference, an au pair is a young woman (or man!) who takes care of a family's children in exchange for room and board. Au pair duties usually include childcare, cooking, and tidying up. Ashley was an au pair in France four times and absolutely loved it. Because the family paid for the flight, her room and board, and most of her expenses, she was able to travel much of Europe in her time off. If you are interested in learning how to become an au pair, check out Ashley's book about au pairing, with information on how you can do the same, earn money, and live the life in Europe!
Those are a few of our best tips for solo female travelers in Europe – one of the friendliest destinations for ladies adventuring alone.
The best part is, you'll never actually be alone as long as you follow our tips above, remain friendly and open, and ever-curious and excited. You can also stay safe and come back with beautiful memories of your trip by following our simple steps and doing exactly what you do at home – being cautious but still having a blast.
For more information on how to save up for your trip, how to get over the fears of traveling alone, how to break your decision of traveling solo to your worried family and friends, and how to make time away look awesome on your resume (plus a ton of other tips and case studies from over a dozen other solo female travelers), check out my comprehensive guide to fearless solo female travel.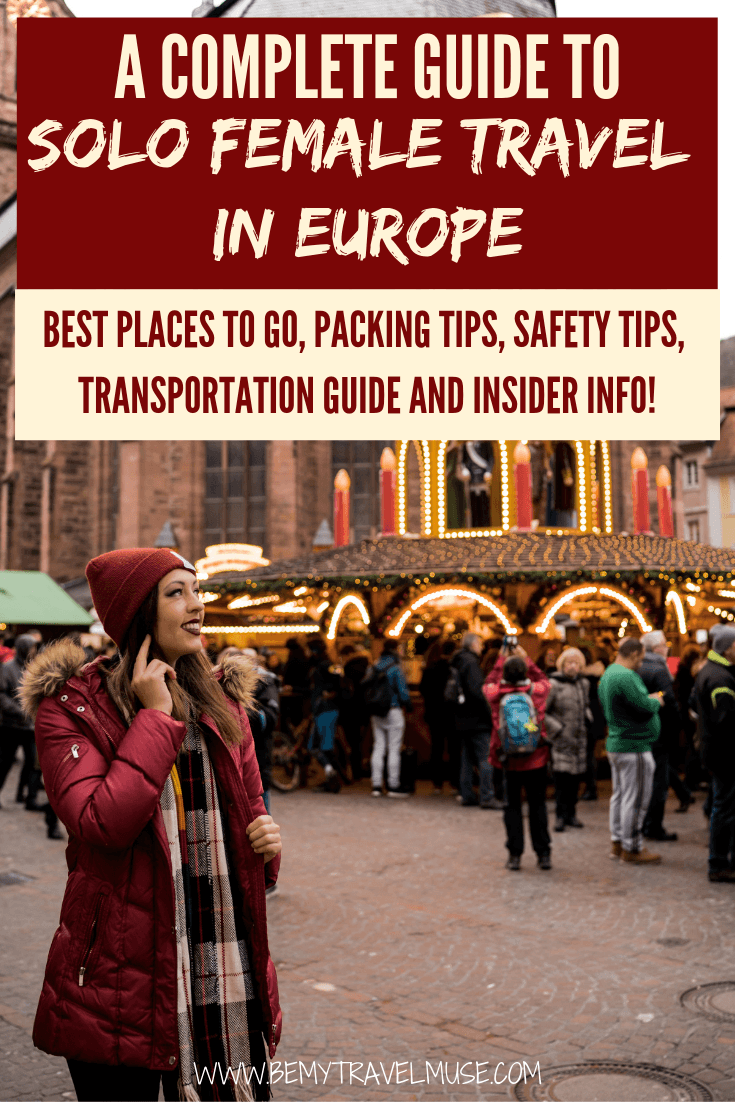 READ NEXT: